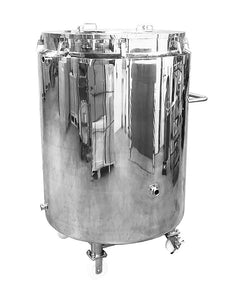 This tank can be used for cooling and storing cold water to help complete post-boil knock down, where tap water is not cold enough to do the job. It has two independent, vertical jacket zones to which two of our Water Chillers can be connected for chilling overnight. A removable temperature stratification screen beneath the water return port at the top minimizes movement and mixing of water inside the tank so that you get the most chilling power out of the cold liquor. 
Specification:
Solid 304SS construction 
a sealable lid (to minimize spillage when moving)
a removable temperature stratification screen
two sensor ports (two ETCs can be used to control to separate Water Chillers for quickest chilling), two lid ports, one for filling the tank and the second for a 3psi PRV valve (if the lid is on, a pressure relief and vacuum breaker valve must be installed -- changing liquid levels cause pressure changes inside a closed tank which can cause damage)
one 3psi PRV
four black 8" 600kg casters and bolts (photo shows white 6")
one push bar
two 1.5" 90 degree elbows (one for water return inside the tank -- direct this one up to minimize water currents inside the tank—and a second for the exit port at the bottom
one 12" 1.5" tube to bring the exit port valve over to the side for easy connection
four 1.5" butterfly valves
one 1.5" cap
twelve 1.5" clamps
twelve 1.5" silicone gaskets
3psig maximum pressure in vessel and 5psig in the jacket; ensure this is not exceed by use of pressure relief and water pressure regulator
Not meant for holding a vacuum (always use a vacuum breaker to ensure a vacuum does not form)
Not included:
Dimensions (approximate):
ID 965mm/38"
OD 1100mm/43"
Height including casters 1780mm/70"
Video: Overview, installation and operation of the 950L/250gal Cold Liquor Tank