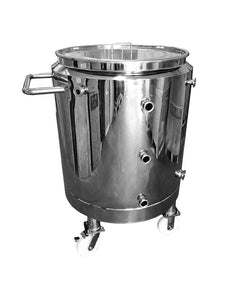 This tank can be used for heating sparge water and moved around the brewery where needed removing the expense and hassle of a permanently piped vessel. It has a 500L/130gal capacity, is insulated, and has casters for easy portability.
It includes:
Solid 304SS construction 
a sensor port (ETC, heaters and power controller not included and can be purchased separately)  
two lid ports, one for filling the tank and the second for a 3psi PRV valve (if the lid is on, a pressure relief and vacuum breaker valve must be installed -- changing liquid levels cause pressure changes inside a closed tank which can cause damage)

four casters and bolts

one push bar
two 1.5" butterfly valves

two 1.5" cap
two 1.5" x 90 degree 1/2" hose barb to construct sight glass (hose not included)
ten 1.5" clamps
ten 1.5" silicone gaskets
one 30cm/12" 1.5" TC tube
one 1.5" 90 TC
two 2" caps
two 2" clamps
two 2" silicone gaskets
two 3" x 2" cap reducer 
two 3" clamps
two 3" silicone gaskets
3psi PRV
Not included:
ETC sensors or controllers
Heaters for heating water; it comes with two 3" element ports and two 3x2" cap reducers to accommodate our 5.5kW or 9.5kW (3 phase) heaters

Dimensions (approximate):
ID 800mm/32"
OD 900mm/33"
Height including casters 1250mm/49"
NOTE: Might not look exactly as shown in image